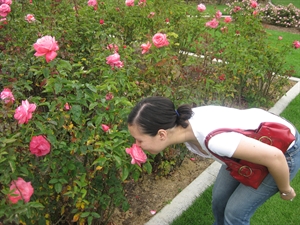 What To Wear
Come in cocktail attire. For men, these means a suit. For ladies this means cocktail dresses. Look sharp people!
Getting There
Here's a map with the address for the parking lot already set up for you. Just grab some driving directions!
Please note we have just been informed that the street "Menlo" has been changed to "Bill Robertson".
03/17/2010 - Apparently California DOT hates our wedding. They have closed the intersection of Vermont and Exposition. If you are using the 110, exit at Martin Luther King Blvd and head west. Then turn right and head north on Bill Robertson - (formerly Menlo). For those of you with morbid curiosity, here is a link to the road closure announcement
Google Maps still seems to be calling the street Menlo, but you should probably look for street signs using either name. Sorry for the confusion.
View Larger Map
Once parked, use this map (thanks Google Earth!) to get to the Rose Garden.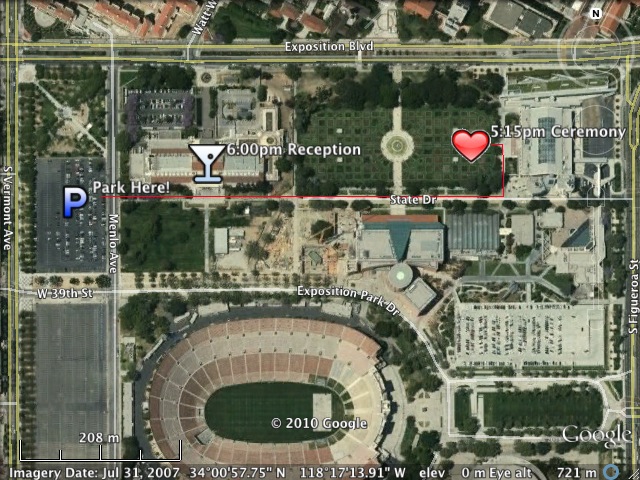 The Ceremony // 5:15pm - 6:00pm
The ceremony will start at 5:15pm in the east-most section of the Exposition Park Rose Garden.
The site of the ceremony is ~1/2 mile away from the parking lot, meaning that it takes ~15 minutes to walk from the parking lot; and that's when you're wearing comfortable shoes! Please plan to arrive by 5:00pm so you have plenty of time to take a leisurely stroll through the gardens.
Cocktail Hour // 6:00pm - 7:15pm
Cocktail hour in the Grand Foyer of The Natural History Museum of Los Angeles. Guests are encouraged to visit the North American Mammal Hall. The baby buffalo is ADORABLE!
By the way, we've got an open bar, so some of you might want to carpool or look at our Lodging page for a place to crash.
Dinner & Dancing // 7:15pm - 11:00pm
Dinner and dancing in the African Mammal Hall. Boogie on down with a bloat of hippos; take your picture with a silver back gorilla; and join us in celebration!