Our Wedding Party
Our wedding party consists of awesome family members and super friends. What more can you ask for?
Jen's Attendants
Leslie Luque, Maid of Honor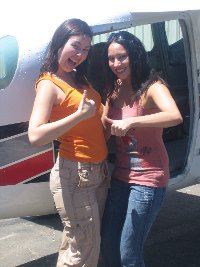 Leslie was Jen's UCLA roommate and partner in crime. Tales are told of the adventures Jen and Les. They met in their junior year at UCLA undergrad. Fate put these two people on the same dorm floor...and that's when the party started! Senior year, they moved into an off-campus apartment and they have partied together ever since.
Leslie is Jen's best friend from college and is part of Jen's monthly emotional support program, generally consisting of long emails and doses of margaritas at El Cholos. She was the first person to encourage Jen to start dating Ryan and has been in Jen's corner the whole way.
Just like Wyatt Earp and Doc Holiday, Leslie and Jen conquered the Wild West while forging a lifelong friendship that stands the test of time.
Elaine Ordiz, Bridesmaid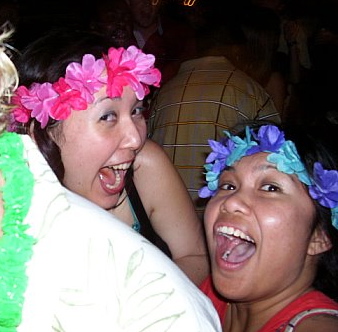 Elaine is Ryan and Jen's platonic "significant other" as well as Jen's party planning partner and sounding board. Ryan found Elaine through Craigslist's "Strictly Platonic" section, where they became concert buddies. Jen quickly became friends with party-planner Elaine (especially since their birthdays are only a few days apart... the possibility of awesome parties were endless). Hence, the awesome threesome happened. Elaine is now part of well-balance meal for both Jen and Ryan.
It has been postulated that Ryan and Jen would not be "Ryan and Jen" without the help and support from Elaine Ordiz. However, since this is a postulate, it can never be proved...and is just accepted as fact.
Shoshana Roth, Bridesmaid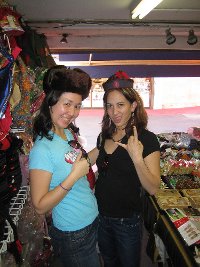 Jen's younger sister and biggest supporter of everything Jen does (and Jen loves her soooo much for it).
Jen and Shoshana shared a room throughout their childhood lives and it's amazing these two did not kill each other early on. Jen's compulsive "neat" style clashed with Shoshana's disheveled "creative" style. Jen liked math and science... Shoshana liked boys. Jen was a dork... Shoshana was a rebel.
Time has passed and the sisters have both mellowed out. And now they talk all the time. Even though they are in different time zones (Jen in CA and Shoshana in NE), they still feel like they are sharing the same room. But in a good way.
Ryan's Attendants
Andrew Duryea, Best Man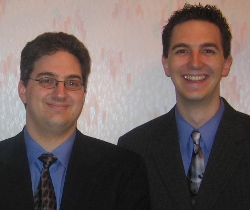 Ryan's extremely patient, older brother and bestest friend for life. Andrew has always been there with friendly advice and a humorous perspective.
Andrew and Ryan also share the same nerdy sense of humor and frequently elapse into an interminable case of the giggles whenever they're together.
Andrew most certainly is the Best Man for the job!
Bill Graessle, Groomsman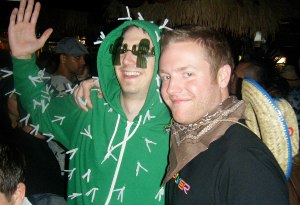 Right after Ryan met Elaine, Elaine introduced Ryan and Bill, and so formed the trio of concert buddies. They've been to a slew of festivals, particularly Coachella, a ton of concerts, a score of parties, and innumerable clubs. When the party needs starting, Ryan can always count on Bill!
Ryan and Bill have formed a mutual appreciation society that knows no bounds. Ryan admires Bill for his candor and adventuresome nature and who knows what the hell Bill sees in Ryan. Whatever it is, Ryan's happy to have such a good friend in Bill.
Marc Sicignano, Groomsman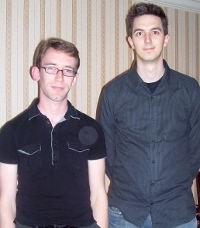 In freshman year at TCU, Marc and Ryan were waiting at a lottery for new dorm rooms. Though they'd shared a class or two over the year, the two had never spoken before. But Ryan struck up a conversation with Marc, which was fortunate for Ryan since Marc was soon thereafter called in the lottery and he brought Ryan into the upperclassmen dorms. They were roommates for the next 3 years.
Over those years Ryan mooched computers off of Marc and generally made a mess of their shared living space, but Marc insists Ryan is the best roommate he's ever had. Though the two frequently exchange blistering insults back and forth and constantly vocalize their desire for the other to expire in a rapid and undignified fashion, both Ryan and Marc think the world of each other. Well, except that Marc is an idiot.