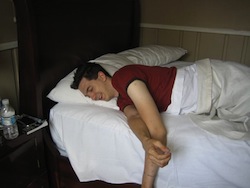 Out of Town?
If you're unfortunate enough to not live in the beautiful Southern California region, you'll probably need to find someplace to put yourself up for a few nights while you're here attending our wedding. May we offer a few suggestions?
The Standard
The Standard - Downtown LA is hip, classy, fun and, well, expensive. But this place is so cool, we've decided that we'll be staying there on the night of our wedding. There's a ultra-swanky bar on the roof where us newly-weds might go to keep the party rolling after the reception.
The Hilton
Around the corner from The Standard is the Hilton Checkers Hotel Los Angeles. All the luxury of The Standard at a nicer price. We've blocked out rooms under Jennifer Roth or Ryan Duryea.
Other Options?
Both of the aforementioned hotels are 4 miles away (more than 1/2 hour by public transit?!) and while you aren't limited to these two hotels, some areas around the Natural History Museum can get a little rough.
Transportation
Los Angeles is notorious for its horrible traffic and rightfully so: everyone drives everywhere. And for good reason: public transportation in Los Angeles is practically unusable. While you might be able to get around without a rental car, we wouldn't recommend it.
You might also want to consider just taking a taxi to/from the wedding (we're having an open bar after all)!