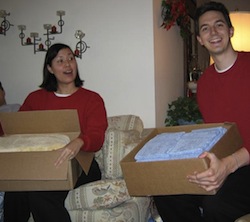 First off...Thanks!
The fact that you're on this page means you're thinking of giving us a gift! Though it isn't required, it is VERY much appreciated!
Red Envelopes...
In China, wedding guests may opt to give a red envelope as a gift to the bride and groom. If you're not familiar with this custom, you can read all about it on wikipedia. We'd like to encourage you to participate in this tradition.
It is customary for the Bride and Groom to supply red envelopes to their guests, so we'll have a big stack of them at the wedding reception. If you'd like to purchase your own ahead of time, you can find red envelopes in Chinatown, or at stores like 99 Ranch Market.
... and Registries...
If you'd prefer to purchase a gift for us instead, we have registered at the following fine establishments:
Bed Bath & Beyond - We'll be cooking up more than just trouble if you help us stock our kitchen!
Macy's - We'll rest easier once you help us out with some new bedding!
Amazon - Keep us docile and complacent by supplying us with some awesome new gadgets and gizmos!
...and Gift Cards! Oh My!
If none of the above options suit you, you can always get us a gift card to any of the establishments above. We also like to frequent Target, Trader Joe's (sorry, no link...Trader Joe's only sells gift cards at their stores), and BevMo.